LED Dog Collar - Dog Products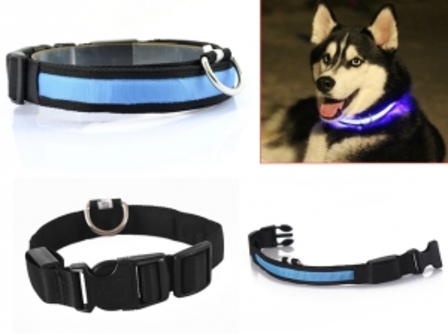 LED nylon collar which glows and flashes in darkness. It provides great visibility making your dog easier to find in the dark, and provides extra safety at night such as when walking near roads.

This is a very fashionable and cool Led safety collar for dogs. It is an excellent way to ensure both you and your pet's safety.
?IF>
With the LED illumination collar, you will not to fear that could not find your pet, pet's security gets the protection. The driver will find your pet with the LED light in 150-200 meters, the dog's security is guaranteed

FEATURES:

* Bright light can be seen from 200 meters away.

* 360 degrees visible

* Size adjustable, suitable for almost all dogs.

* Easy to wear and remove (on-off buckle)

* Hand-Washable (after remove of the battery box)

SPECIFICATIONS:

* Condition: New

* Material: Durable nylon material

* Size: Large

* Dimensions for Collar: Width 2.5 cm x adjustable length from 45-52 cm

* Modes: Continuous On/Falsh/Off

* Battery: 2 x CR2032 button batteries (pre-installed)

* Battery operating time: Two can light the collar for up to 80 hours

PACKAGE CONTENTS:

1 x LED Dog Pet Flashing Light Up Safety Collar L