Celox Applicator - Stop bleeding fast - First Aid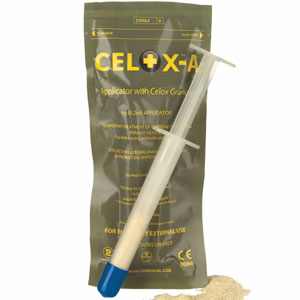 A must for any hunters first aid kit. For this small price you could save your dogs life or even your own.

Stop bleeding fast with this applicator. Celox now has a substantial history of use in police, fire and medical emergency departments and Defence Forces around the world.

Celox-A™ is a unique applicator delivery system pre-packed with Celox granules and designed to get through a small entry wound often caused by boars tusks directly to the bleeding site in just a few seconds
?IF>
Celox-A™ is a unique applicator delivery system designed to give you an easy, safe and effective way to stop life-threatening bleeding from difficult to treat penetrating trauma. The instinctive applicator allows you to get the Celox™ granules through a small entry wound, directly to the bleeding site in just a few seconds.
In clinical testing Celox-A™ has repeatedly shown itself to be able to quickly and reliably stop deep arterial bleeds. Of course that should not surprise you - Celox™ granules have already been shown to result in 100% survival in independent US marines' severe bleeding tests**. Celox's™ unique, patented and natural formula, works independently of the body's normal clotting mechanisms to robustly clot blood even where normal blood clotting is slow or impaired.
Celox™ is suitable for:
Small entry wounds
Penetrating wounds
Knife and shrapnel wounds
Bullet entry wounds
Applying through strong blood flows
Controlled application to all wounds
Celox™ has been shown to:
Save lives
Reliably stop arterial bleeding**
Significantly reduce blood loss**
Clot blood containing anticoagulants like Coumadin (warfarin)*
Quickly clot hypothermic (cold) blood*
How to use can be found here: http://www.celoxmedical.com/wp-content/uploads/How-to-use-CeloxA.pdf
There are a few videos (graphic) that can be found on the internet by doing a quick google search.