ONE DOG CABLE LEAD - Leads and Hog Ties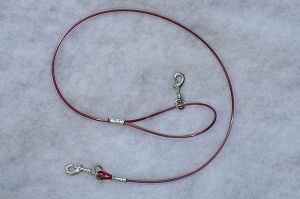 These heavy duty leads are made of coated steel cable encased in clear tubing. They come standard with a slip ring, swivel snap in handle, and one swivel snap for collar. Approximately 55" long. Either nickel plated or brass snap options. ADDITIONAL CHARGE FOR BRASS SNAPS WILL REFLECT IN YOUR SHOPPING CART.
?IF>
View your shopping basket or browse other items.
Other products you might be interested in