FAQ and T & Cs
Frequently Ask Questions & T&Cs
Hogs Dogs & Gear is a division of Lineport Ltd (NZ owned & operated)



Which rip gear offers the best protection for my dog?
All of our gear is made of the highest quality available yet provides you with options to suit your individual needs. Approximate guideline for our gear:
Viper Chest - Great for bailers that need a little some chest protection and a little side protection from nicks, Texas Boar Bib - Rip collar/Vest Hybrid with plates for hard neck/chin blows, Defender Holder - Holder vest with impact panels for thoses hard blows, Tank Defender - Shorter version of Defender holder, Devastator Kevlar - For your hard holders, Guardian Kevlar - Ultimate protection including neck/chin plates for hard holders, Plate Tank Vest - Holders that get blows under the chin and chest.
How do I know which size vest to order?
Barrel Between Legs Body Length
Small 63.5 - 65.5cm 6.5 - 7.5cm 25.5 - 28cm
Medium 68.5 - 73.5cm 7.5 - 9cm 28 - 33cm
Large 73.5 - 78.5cm 9 - 10.2cm 30.5 - 33cm
X Large 76 - 81cm 10 - 14cm 30.5 - 33cm
How do I take measurements to ensure the best possible fit?
All measurements should be taken with the measuring tape against the body. Remember, you want the best fit possible. Our gear is designed to lie against the contours of the body - your measurements should be taken the same way.
1. Barrel - around the rib cage at the deepest part of the dog's chest, behind the front shoulders.
2. Between the Front Legs - most dogs need a 2-3 inch width unless it is a special case.
3. Body Length - between the inside of the front leg to the inside of the back leg.
When you receive your vest please try on your dog for fit. If you have purchased the wrong size please do not use it and contact us right away for an exchange. Exchanges (at your cost for shipping) can only take place if the vest has been returned to us within 7 days of purchase in BRAND NEW CONDITION AND NOT USED. We do not charge a restocking fee for exchanges however a restocking fee of 10% will be applied for refunds approved by management. Clearance sales are final - no returns. Please choose carefully. Thank you
How do I know which size collar to order?
Small = 35.5 - 53 cm
Medium = 40.5 - 56cm
Large = 46 - 61cm
Moon Shine Camo Size Chart
Moonshine Camo sizing guide found here. If in doubt go up a size please.
Which bark/training collar would suit my dog?
Making the decision to use a bark collar can be difficult, let alone working out which is best suited for your dog. Click here to go to a guideline to help you. If you are still unsure, please feel free to ask us via chat, email or call us on 0800446436.
How do I order a custom collar?
If you would like a custom sized collar or customized detail on your collar, contact us with your request and we will respond with additional information.
What payment options do you have?
We offer bank deposit/direct credit or credit card payments. For overseas orders Paypal can be used.
Now offering LAYBUY - Laybuy lets you receive your purchase now* and spread the total cost over 6 weekly automatic payments. Interest free. *In stock items. For more info please visit www.laybuy.com before purchasing.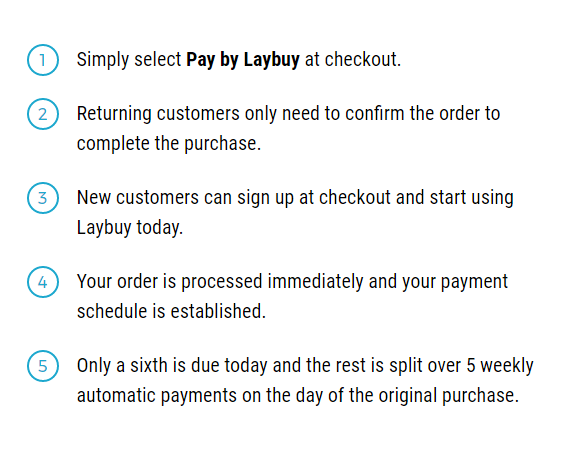 How long will my order take to deliver?
In stock items that are ordered are usually processed and sent within 24 hours. Our non rural customers should expect overnight delivery after receiving tracking information. Rural customers should expect 2-3 night delivery. In the event we are out of stock it may take up to 1-4 weeks for delivery. If delivery time is important, please contact us before purchasing to avoid disappointment as stock levels change often. All parcels are tracked via Courierpost to help insure safe delivery of your items.
Please note, by accepting the terms of the trade upon checkout you understand the above conditions.
Privacy
Your Privacy is very important to us. We will not disclose your information to any third party. All credit card details are processed through Fetch secure encryption.
My Item is DOA or I've only owned it for a short term and it's broken. What do I do?
Please contact us right away for any returns or warranties. We offer a replacement for any DOA within 7 days of purchase and a 1 year manufactures warranty on all items.
Ordering
Ordering can be made online via checkout or by phoning 08004HOGDOGS
Returns
Change of mind purchases are up to management's discretion. They will incur a restock fee of 15% of the total purchase price. Refunds are for the product only not shipping. Clearance items are final - No returns. They are still covered by 1 year warranty.
Returning an item
Most items are covered by a 1 year manufacturers warranty. If you have a faulty item within its warranty period, you must email us at sales02@hogdogs.co.nz outlining the issue, product, and purchase invoice number immediately. The item must be sent back to us WITHIN 7 DAYS from this email to: ATT:Returns Hog Dogs & Gear, 7/43 Devonport Road, Tauranga.3110. Please include all items such as chargers, The receipt, along with address if it differs from that on the receipt.If the above is not done we have the right to refuse service.We will send all items back to the manufacturer. Their decision is final.If it is found to be a manufacturer fault the item WILL be fixed or replaced. (Hog Dogs will absorb all costs)If however it is found to be a user error or fault, out of warranty, the item will NOT be replaced or refunded. 1 year Warranty does not apply to replaced items (they are only under warranty for the 1 year period of the original purchase item) The item will not be sent back as it is considered damaged and strict shipping laws will not allow it out of their country. By purchasing from Hog Dogs & Gear NZ you understand and agree to the above warranty terms

Do you ship internationally?
Yes we ship our products internationally. Australia customers have a flat fee of $30NZD which is available at checkout. For all other countries please contact us for a quote. Please note: all customs chargers are the buyer's responsibility. Please check with your countries customs for tax and chargers on imported goods.
All terms and conditions are subject to change at managements discretion.
Product Manuals
Product Manuals can be found and downloaded here:
Hog Dogs T1 (HDT1-HC300) Game Camera:
Hog Dogs T3 (HDT3-HC300M) Game Camera:
Hog Dogs T4 (HDT4-HC-500G) Spark Game Camera:
Hog Dogs T5 Spark Game Camera:
4G Spark MMS Game Camera
Acorn MMS Set up 2G
Acorn MMS 3G Setup
Note: PLEASE EXTRACT FILES WHEN PROMPTED. YOUR VIRUS SOFTWARE MAY NOT WANT TO OPEN THIS FILE - PLEASE ALLOW IT TO.
EasyPet 1200m Remote Training System:
Petrainer Rechargeable bark collar:
User manual