GUARDIAN KEVLAR VEST - Rip collars & vests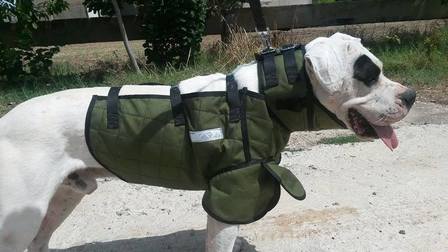 OUR TOP-OF-THE-LINE VEST

The body of this vest is made up of kevlar sandwiched between 2 layers of 1000 denier textured nylon and is cross-stitched for added strength.

The chest area has 3 layers of kevlar and the sides have 2 layers. The protective leg flaps have one layer of kevlar and are an overlapping triple sleeve design to allow for full range of motion.

The vest has an attached collar and chin flap with sewn-in urethane trauma plates and one layer of kevlar.

Includes stainless steel hardware with nylon straps and reflective strips. Full length protection. Light weight and durable - perfect for running holders or hot weather hunting. *NOTE: Black two inch collar and lead in picture are not part of the vest.

Please read our FAQ page for more information on which vest will suit your dog best, sizing and exchanges and general T&Cs.
?IF>
View your shopping basket or browse other items.
Other products you might be interested in