TP16 Dog Fence - Electronic Dog Fences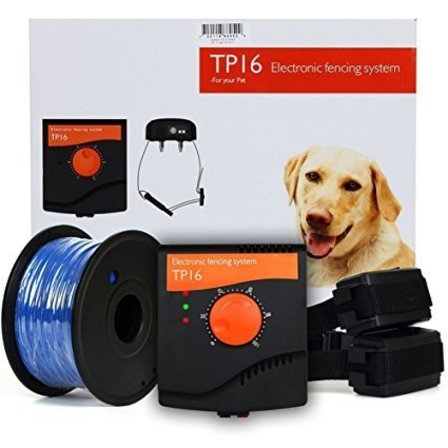 TP16 DIY Electric Dog Containment Fence
?IF>
TP16 In-Ground Electronic Dog Fencing Containment System Fence Collar Waterproof

· This underground electric fence is one of the most reliable, cost-effective pet containment systems available today.

· Easy-to-install, rechargeable, IP 4 waterproof and 5 levels correction of the underground electric fence collar is suitable and easy for any size dog.

· A buried wire transmits a harmless radio signal.

· When your dog approaches the boundary, the signal causes the dog's collar receiver to deliver correction what you set.

· This underground electric fence will help you train your dog to stay within the boundary area where you are allowed.

Main Features:

· Pulsed Proportional Stimulus: The closer your dog gets to the boundary, the more intense the shock will be;

· Progressive Tone Stimulus: A warning tone will be issued first. Then a shock stimulus after 4-10 seconds. If your dog continues to move closer to the boundary the shock stimulus will be progressive.

· Variable Field Width Control: Allows you to precisely control the width of the signal field;

· Audible and Visual Wire Break Indicators: Should your buried wire breaks, a loud sonic alarm will sound accompanied by a flashing light;

· Speed Detect Anti-Run through: The faster your dog is moving, the quicker the higher level of intensity is issued;

· Built-in Lightning Protection: Protects transmitter from power surges caused by lightning strikes;

· Multiple Collar Operation: Add as many collars as you like to contain as many animals you have. There is no limit to the number of collars it can control.

· Up to 5000 square metre range (1.2 acre).


· 1x Indoor wall-mounted transmitter;
· 1 x Power plug;
·2x Adjustable rechargeable receiver collar
· 2 x boundary wire of 300 metres;
· 2 x Extra metal contact points;
· 20 x Training flags;
· 1 x Test bulb;
· 2 x screws;
· 1 x User's manual.